Before the marriage, a bride shops for the best lehenga and jewelry and the groom is busy helping her. So the men take a backseat when it comes to his shopping for the wedding dress.
We can't promise anything, but we can certainly help you choose the perfect wedding dress for men out of this forest. You can choose from a collection of Indian and Western outfits.
Classic Jodhpuri suit
It is also known as the Bandhgala suit. If you are looking for a modern cultured wedding dress design with the essence of authenticity then you can try out the stylish bandhgala for the modern groom is the best costume you can go for. It is worn with light-colored trousers, Jodhpuri shoes will further complete the look.
Traditional gold and maroon wedding dress
The combination of Gold and Maroon is a perfect one that makes men look classy.
Classic red and ivory sherwani
The combination of Ivory and Red is a great one for the no fuss, no muss groom. A red color dupatta with ivory colored shoes will further add to the beauty.
Emerald Green Sherwani With Intricate Floral Embroidery
Keep it minimal and stylish on your big day with this emerald green sherwani.
Not only it gives modern but has a hatke look too!!!
Nehru Jacket with Kurta and Pyjama
Traditional short length Nehru jacket with kurta & pyjama will surely make you look chivalrous.
Multicolour embroidered sherwani as a marriage dress for men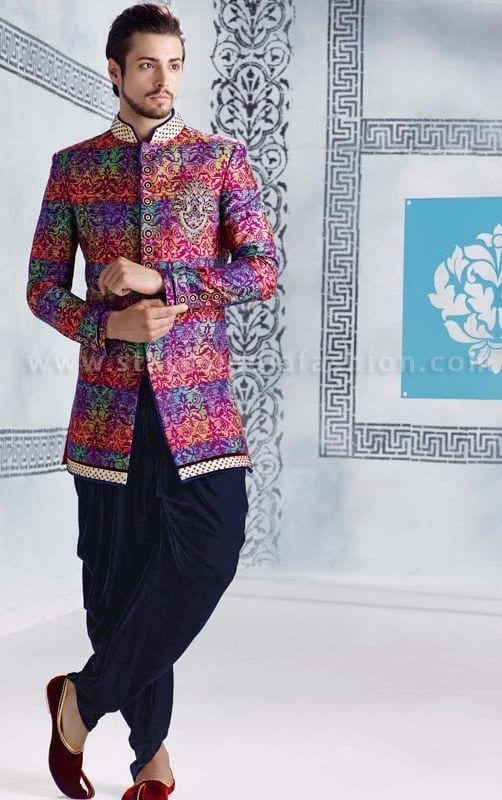 A multicolored embroidered sherwani can do wonders if you are confused about which color sherwani to buy.
Adorable Cream sherwani as a marriage dress for men
Is there anything more elegant to a wedding dress for men than a basic ivory-colored sherwani? Choose something simple for your wedding like this and accessorize it according to your style.
These were some of the best wedding dresses for grooms. Hope it has helped you in some way.
Follow us for more outfit related blogs!!!!